The Quality
---
We build our reputation one home at a time. So you can rely on us to craft a dwelling that you will be proud of and that will increase in value for you.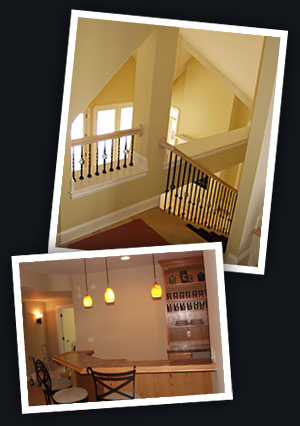 Through the years, we have developed a quality, home building team. We use our own framing crew to produce the core of your home, the part that ultimately insures structural perfection. Then we use the same set of superior subcontractors for every custom project. We know the excellence of their work, and they know what our clients expect. We do not accept less than the very best.
As work progresses, we'll also guide you through the selections you'll need to make. Your first assignment will likely be choosing your brick or other exterior finishes. From there, you'll be guided to the next step. You'll work with the previously approved budgets to make decisions about fixtures, flooring, cabinetry, appliances, etc. You'll be given a list of venders who will pass along wholesale prices or contractor discounts to you.
Our emphasis on construction excellence is not just a slogan. Perfection is our goal. In order to accomplish it, we take many extra steps that most builders don't. For example, our quality control includes monitoring both the home's humidity levels while it's under construction and the moisture levels of the building materials. We all materials to reach their ideal moisture content level while stored within the dwelling. Only then do we move forward with construction or installation. The drying process, and its resulting shrinkage, does not take place after construction is complete. For instance, moldings are allowed to reach optimum dryness and then applied to your walls. This process means there will be no gaps in your woodwork. This "settling" after construction and means there are significantly fewer problems in the years to come.
In recent years, mold and mildew have become health concerns across the country. Our staff is extensively trained in this issue. We not only construct to avoid the problems, but we also train our homeowners and provide the equipment needed to insure a lifetime of healthy living environment.
Our Warranty
---
We stand behind the homes we build. Our warranty is our bond. So, we build in a way that means we won't have things to fix later.
If however, there is an issue with any of the construction or products used in your home within the first year, we will replace or repair them to your satisfaction.
Our goal is a totally satisfies customer. We build for you as we would build for our own families.